What: The Doo Dah Surf Parade, hosted by the totally rad Charles Phoenix
Where: Sunset Beach, Pacific Palisades
When: Saturday July 25, 2009, EARRRRLY in the a.m. SCHEDULE HERE
Price: FREEEEE!
Details: "Meet at the bluff for a group paddle out to say goodbye to the aggro attitude and to bring back the stoke that keeps us surfing!" Let's put it this way: the Doo Dah Surf Parade is to the U.S. Open of Surfing as The Doo Dah Parade is to the Rose Parade. The main guideline is this: if you don't have a sense of humor, don't do the Doo.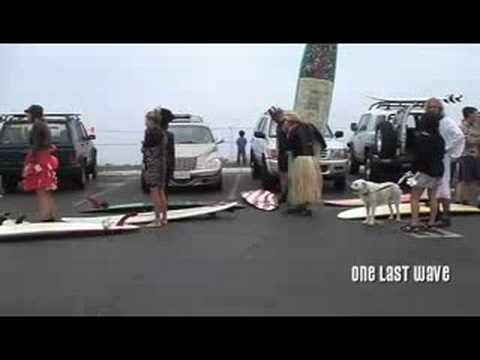 "Back in the Spring of 2002, after a day of frustration at local breaks known for aggro-vibes and hostility, four local Surfers decided the best way to get surfing back to it's pure and fun origins was to go the extreme of laughing at ourselves. Three short months later in June of 2002, over 30 Surfers showed up in costumes rangings from nuns, to business men, to bumblebees. Ever since Doo Dah Surf 2002, each ensuing year has seen attendance double as well as increased recognition from media to documentaries. All proving that the surf community is ready for a day of fun and celebration."
---
Note: this listing will be updated during the week as we see fit, and we try to include FREEEEE events whenever possible. :)
THROUGH 7/26 – US Open of Surfing
7/23 – Latin Dance Championship; Summer Nights on the Boulevard in Atwater
7/24 – Disco Dancing Downtown Under The Stars; Classic Rock Night at the LA Zoo
7/25 – Battle of the Tribute Bands; Heritage Park Silent Movie Night
7/26 – Dessert Decadence
THROUGH SUNDAY, JULY 26
What: U.S. OPEN OF SURFING New and improved with added skateboarding!
When: Daily through July 26
Where: Huntington Beach Pier, PCH & Main Street, Huntington Beach
Price: FREEEEE!
Details: I'm allergic to the sun and have a fear of the ocean and large crowds. Some lame native Southern Californian I am, huh? Although this event sounds like it would be everything I don't like, I grew up around surfers so I love the peoplewatching at surfing competitions. Plus the ocean's always pretty to look at… I just don't want to get in it 'cuz there are bitey things in there. Yeah, I'm a complex girl.
From the event site: "What's the closest thing to watching the world's best surfers compete in a full-on stadium atmosphere? Look no further than Huntington Beach in July, when up to 500,000 people will find their way to the real Surf City, post up in the sand and cheer on their heroes at the Pier. It's been that way for 50 years now, starting with the US Championships in 1959 and evolving to today: the Hurley US Open of Surfing." (more…)
---