Did you know that technically the L.A. Memorial Coliseum is the third oldest baseball stadium in the country? Didn't think so. How about this one… do you know who the structure was built "in memory" of? (It was originally commissioned in 1921 as a memorial to veterans lost in World War I. In 1968 it was rededicated to the memory of veterans of all wars.)          
Well as long as we're on a roll, here's another little L.A. Coliseum factoid for ya… the life-sized and headless bronze nude statues which stand at the gateway were sculpted by Venice sculptor Robert Graham (1938–2008) for the 1984 Olympics. The models were Olympic long jumper Jennifer Innes from Guyana and Terri Schroeder, a player and eventual head coach of the USA Olympic Water polo team who is now a chiropractor in Westlake Village. (And btw, those nude statues caused a bit of a ruckus back then for being a bit "too realistic," if you know what I mean.)
Since opening in 1923, the 93,000+ seat venue has hosted college Football, the World Series, baseball and football All Star Games, basketball, the Superbowl of Motocross, two Super Bowls and two Olympics… plus many, many other notable events in and out of the realm of sports. Not too shabby. Time for a salutory wave!
For more history on the Coliseum, just click here.  http://www.dailymotion.com/videoxfga8g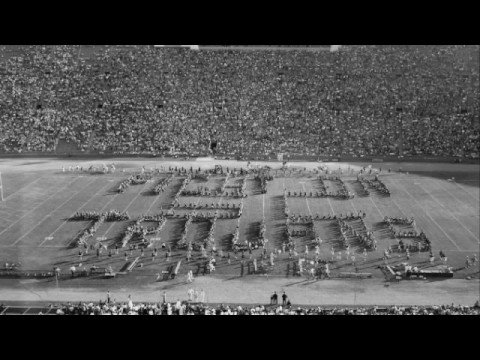 ---
Here's a little tribute to the truly permanent residents of Los Angeles by Steve Goldstein, the man behind LA's Graveside Companion: Where the V.I.P.s R.I.P. (and regular contributor to Find A Grave). This video features images from a book he's working on… and for your internet pleasure, he also offers "GraveGrams" that you can send to your friends too.
Unfortunately, the video appears to have some buffering issues so for optimum enjoyment, I'd recommend pausing it to give it a chance to load before playing.
---